Well it's over a month since #CLEUR in Berlin. This was my first time ever attending the event and I have to admit, the sheer scale of the event took me by surprise. It really is colossal! We were told at the Keynote on the Tuesday morning that there are 12k attendees here. The venue is the Messe Buildings in Berlin.
Monday morning we arrived into the Tegel airport at around 10:30 local time (I travelled with Paddy Kelly from our design team) and as neither of us were due for our first session until 2pm, we decided to head for our hotel to get checked in. We had a quick bite to eat and headed up on the S Bahn to the conference. Our hotel was the Hampton by Hilton – which worked out really well and was a great location for getting to either town, conference or airport.
The first session for me was a Technical Seminar on Advance IPv6 topics for Enterprise networks (TECIP6-3614). It was a superb talk if a little heavy with content early on. Lots of talk about the actual IPv6 header and how it differs from the IPv4 one for instance. Being pretty used to RIPE conferences or various other Network Operator Group meetings, I was expecting the session to be pretty short, bite sized. It was about 4 and half hours worth with a quick 10 minute break in the middle. I got a lot out of it and was keen to find out a bit about their thoughts on transition technologies for our own network deployment.
Tuesday was opening Keynote day but I headed up early enough to site to get stuck into the DevNet area as I was keen to get up to speed on a lot of DevOps stuff during the week. I would encourage anyone to Join DevNet as there is a tonne of labs and tutorials on their to get you from a very basic understanding of scripting and API calls, etc to pretty comfortable in a matter of hours! It was a busy day for me I also managed to get to a couple of breakout sessions. One BGP Security (BRKRST-2045) before lunch and finished up the day with another helping of IPv6 in the form of Securely Operate an IPv6 Network (BRKSPG-2603) – all while nipping up to the Exam Centre to sit and fail a CCNA Security exam as suggested in my previous post.
The Exam Centre was pretty crazy – again scale is everything here. I was so used to popping into New Horizon's in Dublin city centre and being either 1 of 3 or 4 or simply on my own sitting exams. There must have been close to 300 people in the room sitting all kinds of exams. I took the exam as a "lard stick" to see how far of the certification I was without really committing to study (due to time constraints) so I was happy enough with my mark in that regard but I'll need to invest some proper time in studying for it when I do resit it for real. Certainly was a great bonus for this to be included in the ticket cost.
On Tuesday evening all the BT Ireland crew met up. This meant steaks and pints down in Murphy's in the heart of Berlin. I normally don't like going to Irish bar's abroad but as this was the most convenient meeting place and it just so happened that Cisco were bringing us to Hofbrau House the following night I wasn't too pushed about missing the local experience 🙂
Here's the Dublin based crew minus Des…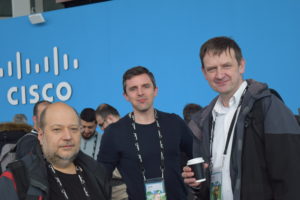 BT Ireland Crew @ CLEUR
Wednesday morning I focused on a couple of things VIRL – which we've finally since got up and working in our lab in the office and Nexus new API system/feature called NXAPI. Both extremely powerful systems and ones I intend to use heavily in the coming months. I've known about VIRL for quite some time but the LAB I did on it really demonstrated just how powerful and quick it is to set things up in comparison to say GNS3 or the likes. You can literally build a fully functional MPLS core network running iBGP/eBGP OSPF/ISIS/statics/whatever in a matter of seconds using the automatic configuration tool and then simply edit the topology to tune it as you need. NXAPI is also very cool and I've started to play with it on a Nexus 5548 before production deployment.
Wednesday afternoon, again wanting to get as much from the automation topics as I could, I chose LABSPG-2442 (NSO: Network Service Orchestrator enabled by Tail-f hands-on LAB) for my hands-on LAB. Previous to attending CLEUR I watched a live demo of the NSO system at iNOG::5 in Workday's Dublin offices by Amanda Galligan (who's actually an ex-BTer as it happens) and was very impressed by it so I was keen to get stuck into it. It didn't disappoint! Extremely powerful tool and I love the way you can write the configuration pushes in Cisco CLI or Juniper CLI – this very cool. You can effectively orchestrate changes to an entirely Juniper only network using the Cisco CLI to do it. I can certainly see use cases here.
Wednesday evening, with thanks to Cisco, all attendees from Ireland were invited to dinner in the Hofbrau House. Great spot, great food, great company. Thanks a lot guys! It was actually a great idea to get to meet all the other folks from the various operators and enterprises in Ireland. Lots I knew and some I didn't.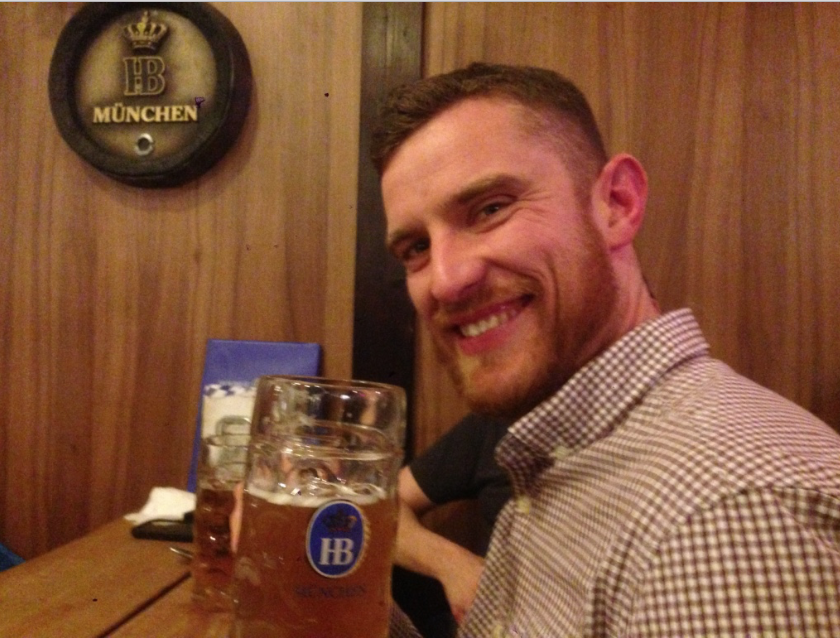 Cheers / Prost
Surprisingly enough I wasn't feeling too bad after the revelry of Wednesday night so headed up bright and early to CLEUR. I headed to BRKEXH-1012 on KEA before getting stuck into BRKARC-2025, lunch and a quick BRKDCT-2025 to follow the NXAPI stuff.
Keynote followed on Thursday afternoon. Keynote speaker was Netflix CEO and Co-Founder Marc Randolph. Such a great speech – very empowering. Straight after that, it was party time. The event part was on-site and was fantastic stuff altogether. It featured all manner of German food and drinks and of course a scratch off on the main stage. Here's a blurry picture from the night;

Friday was wrap up day. We checked out of the hotel and head up to site for the last time. I finished up with BRKRST-2301 and a brilliant talk on the conference operations/setup PNLNMS-1035 which is very similar to what the RIPE NCC Operations team do on the Friday morning of a RIPE meeting. It detailed all the kit used, how the network was designed and what was involved in the rollout on site. Once we were done on site we decided to meet up as a BT Ireland crew again and head site seeing to end off a super week.
Here's a couple of snaps I took during the afternoon.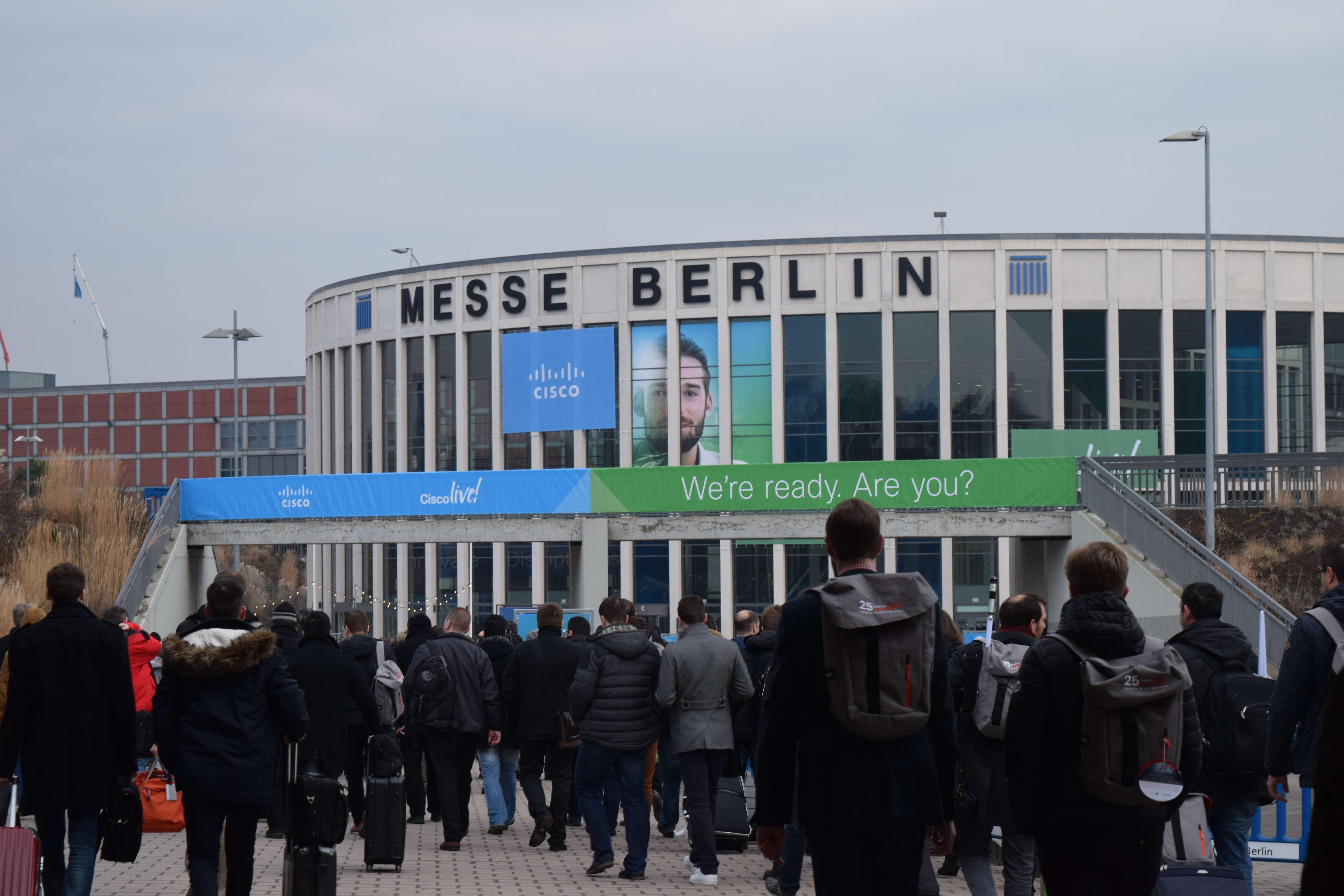 Conference Centre @ Messe Berlin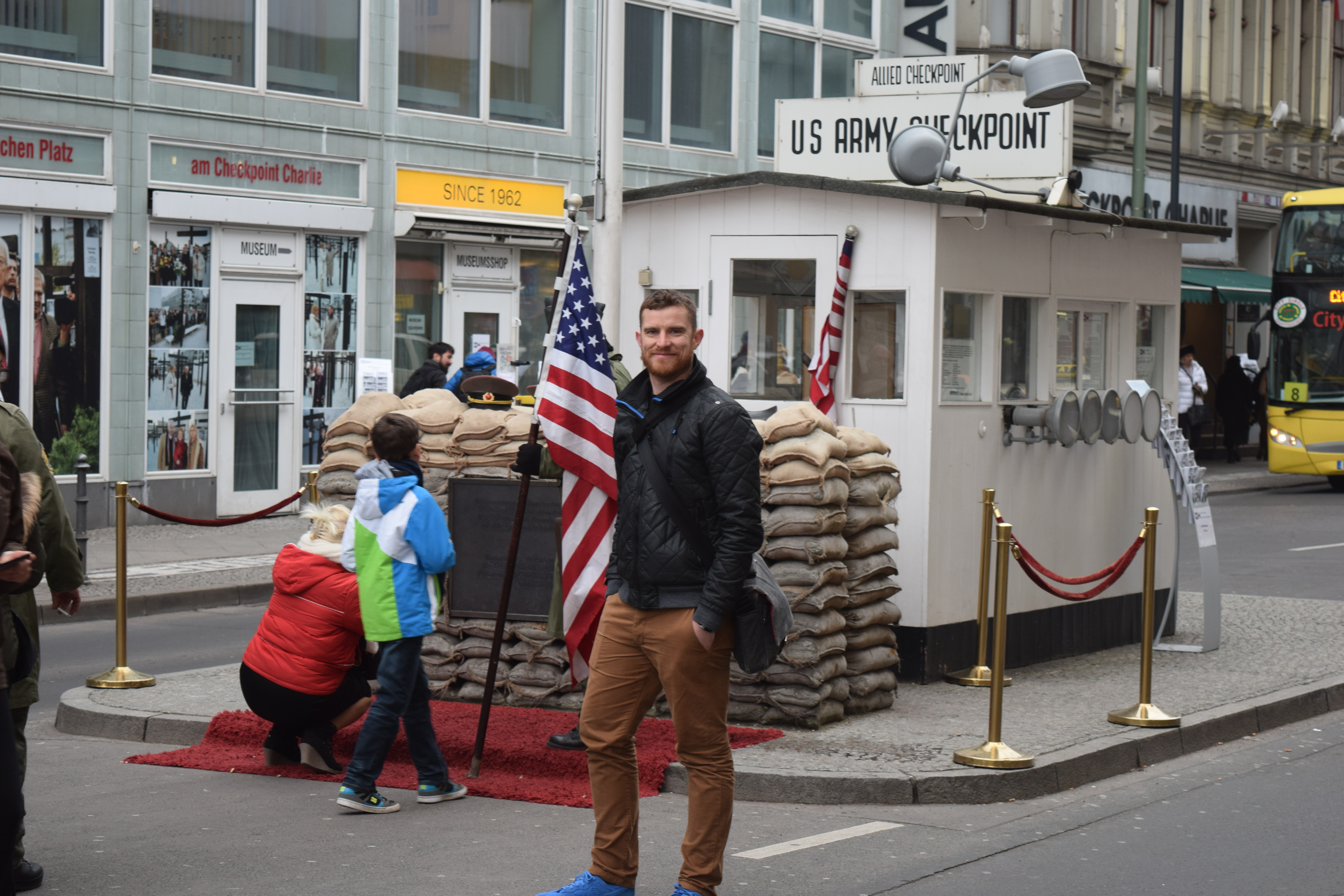 Me @ Checkpoint Charlie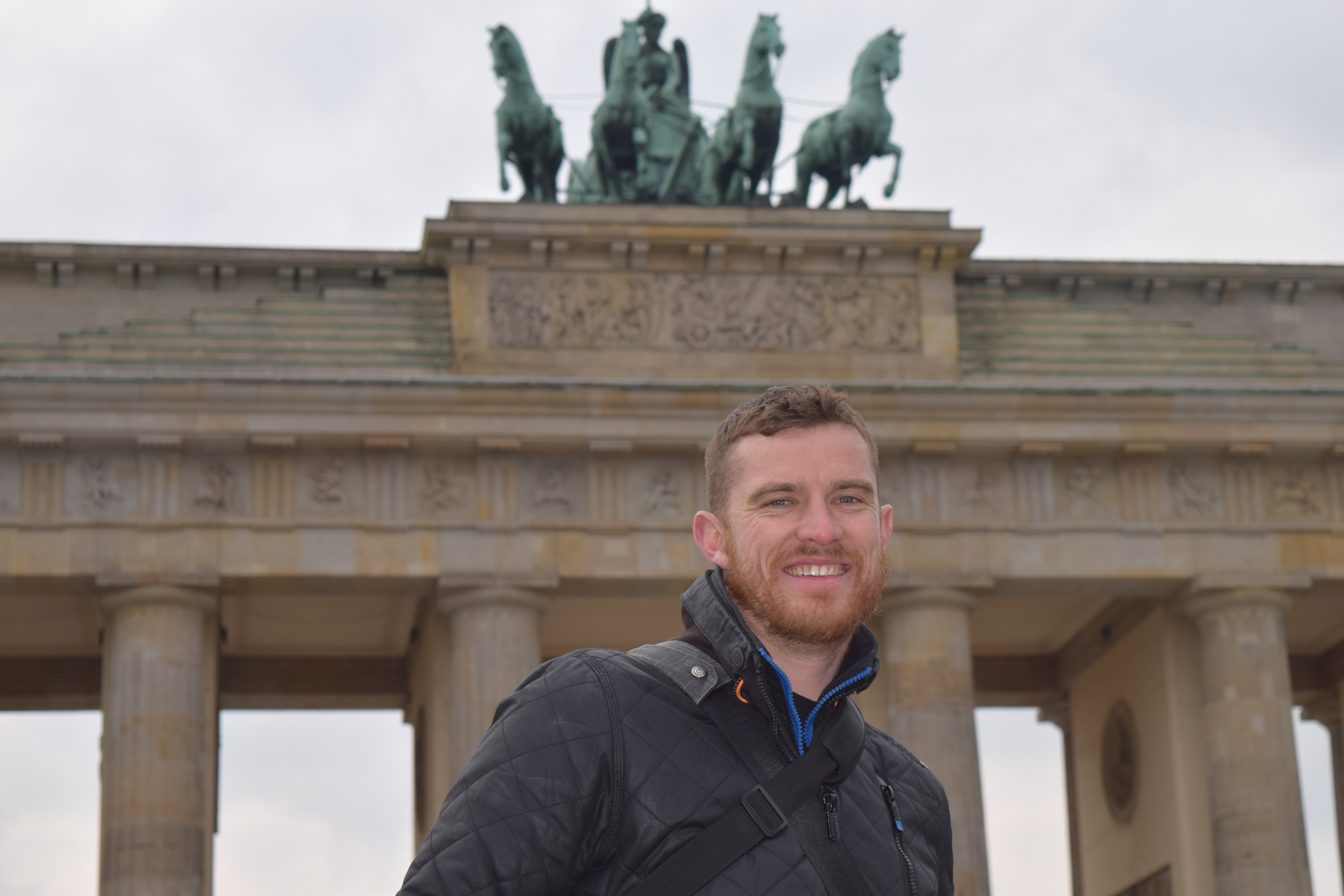 BB Gates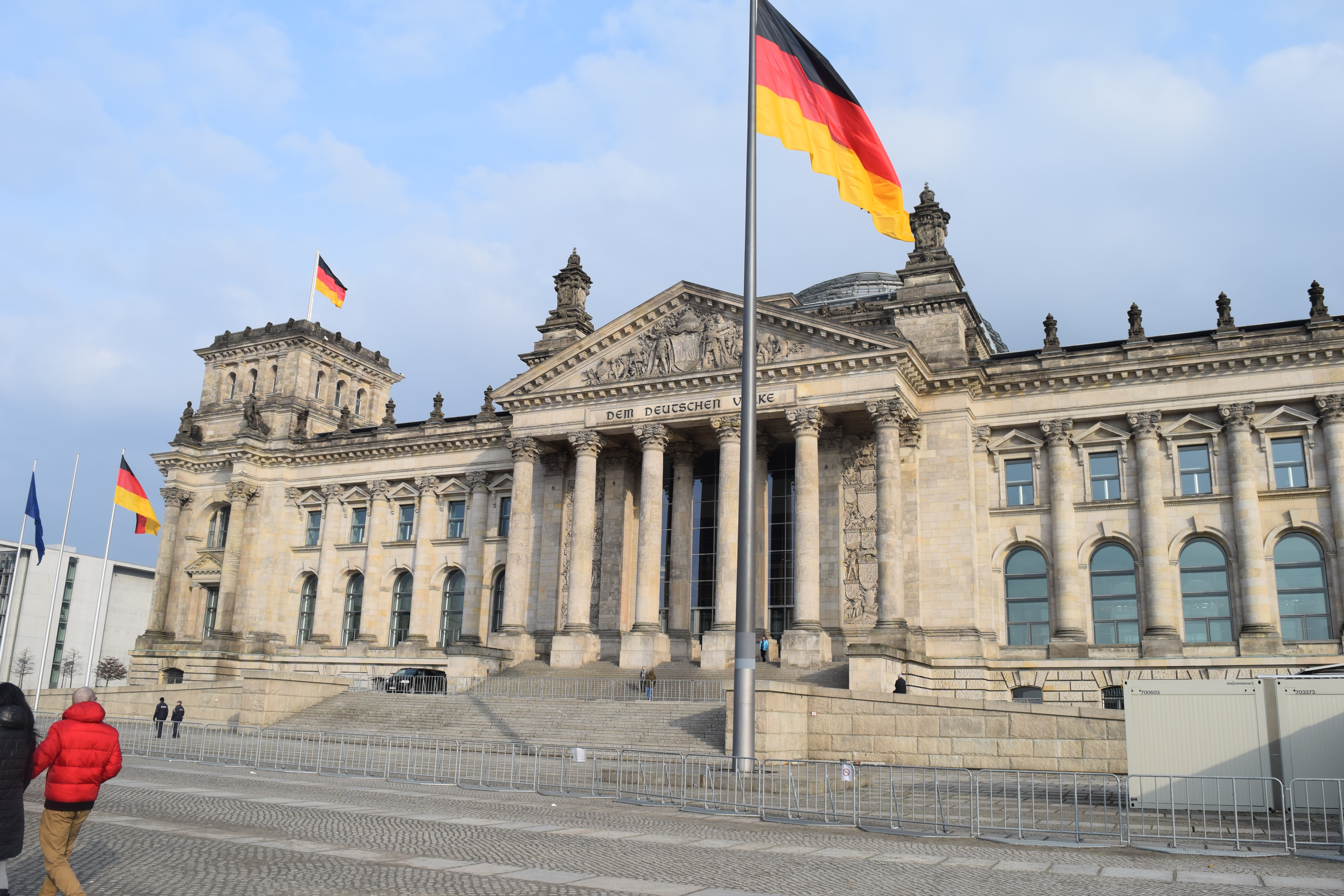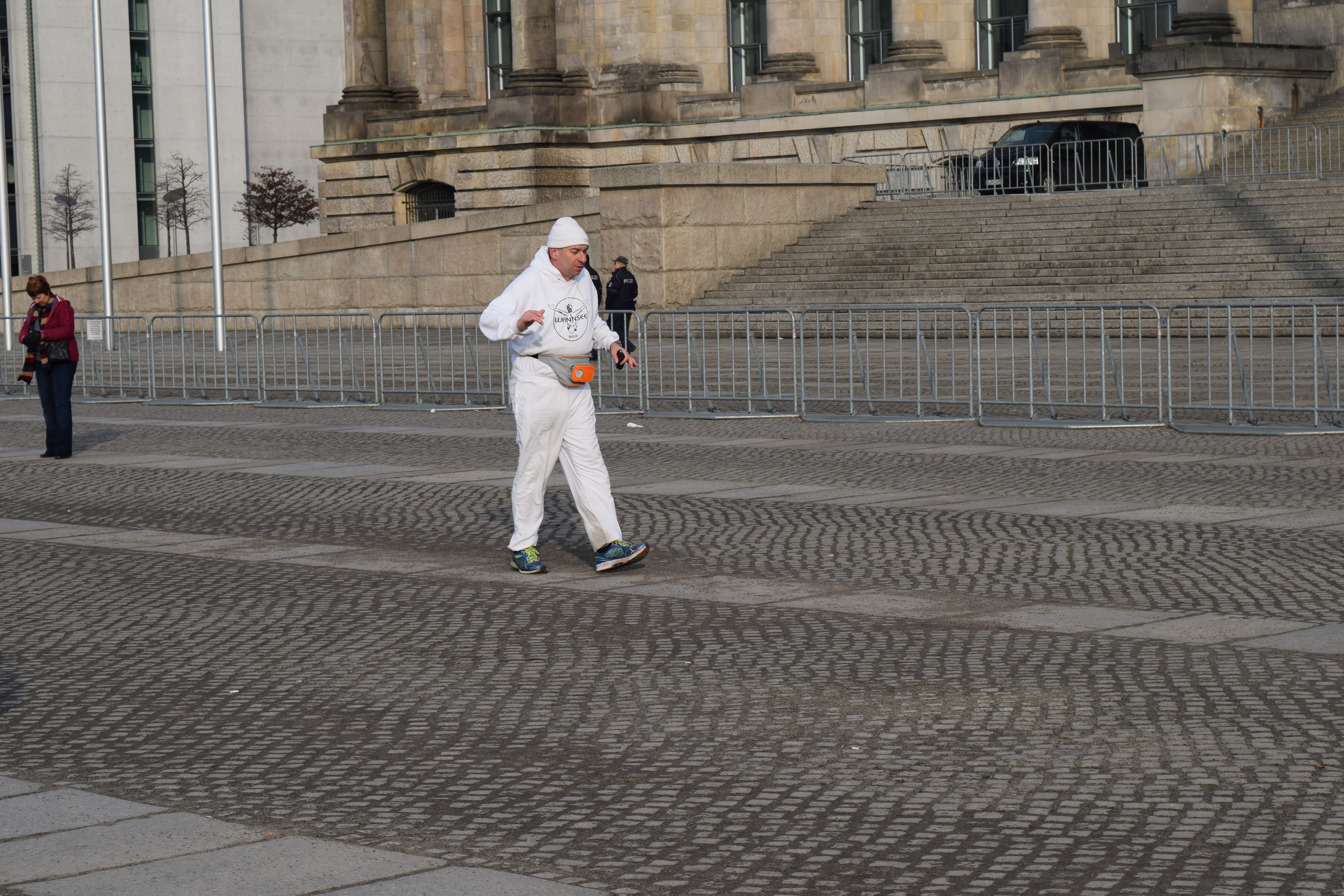 Happy Local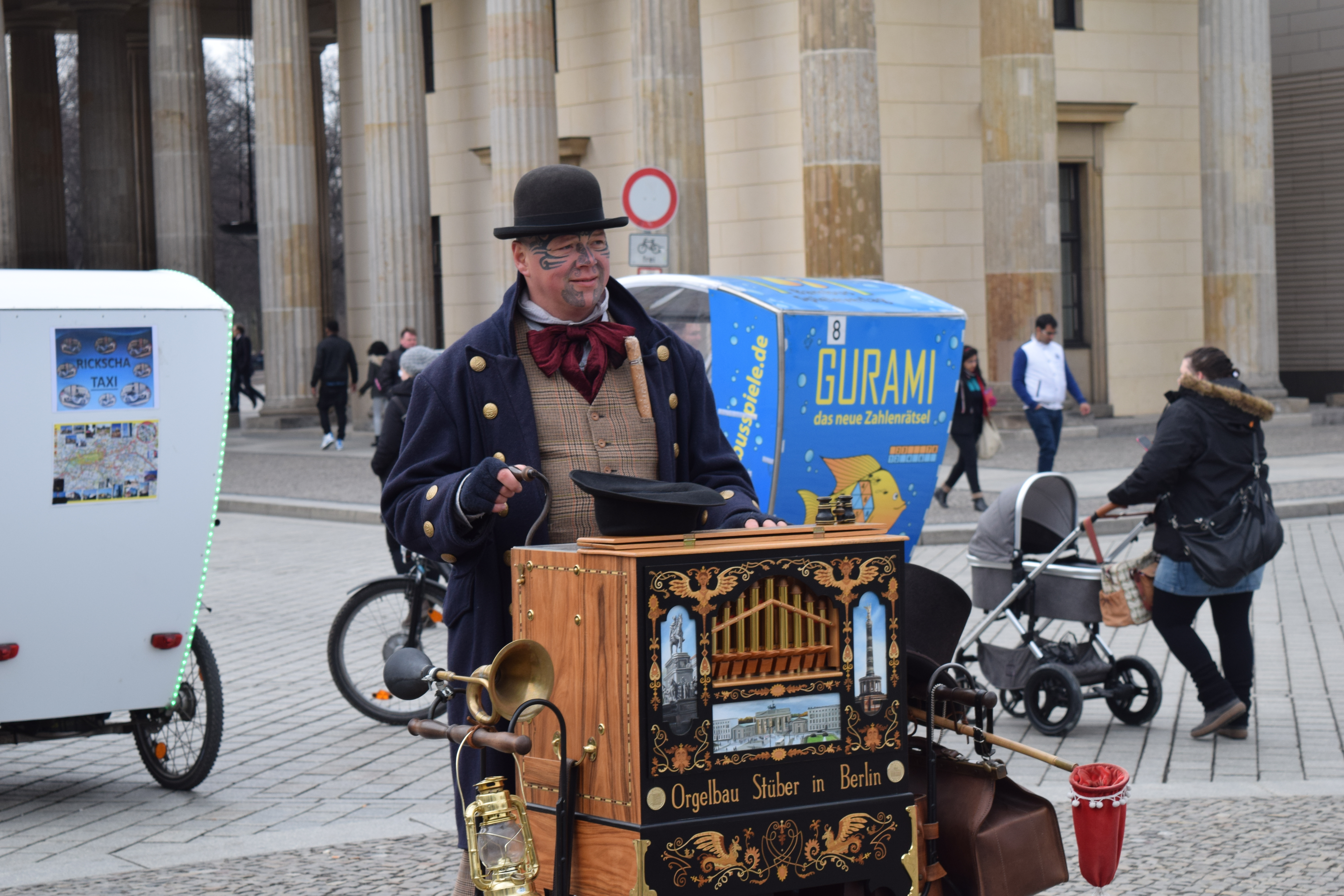 I am the music man…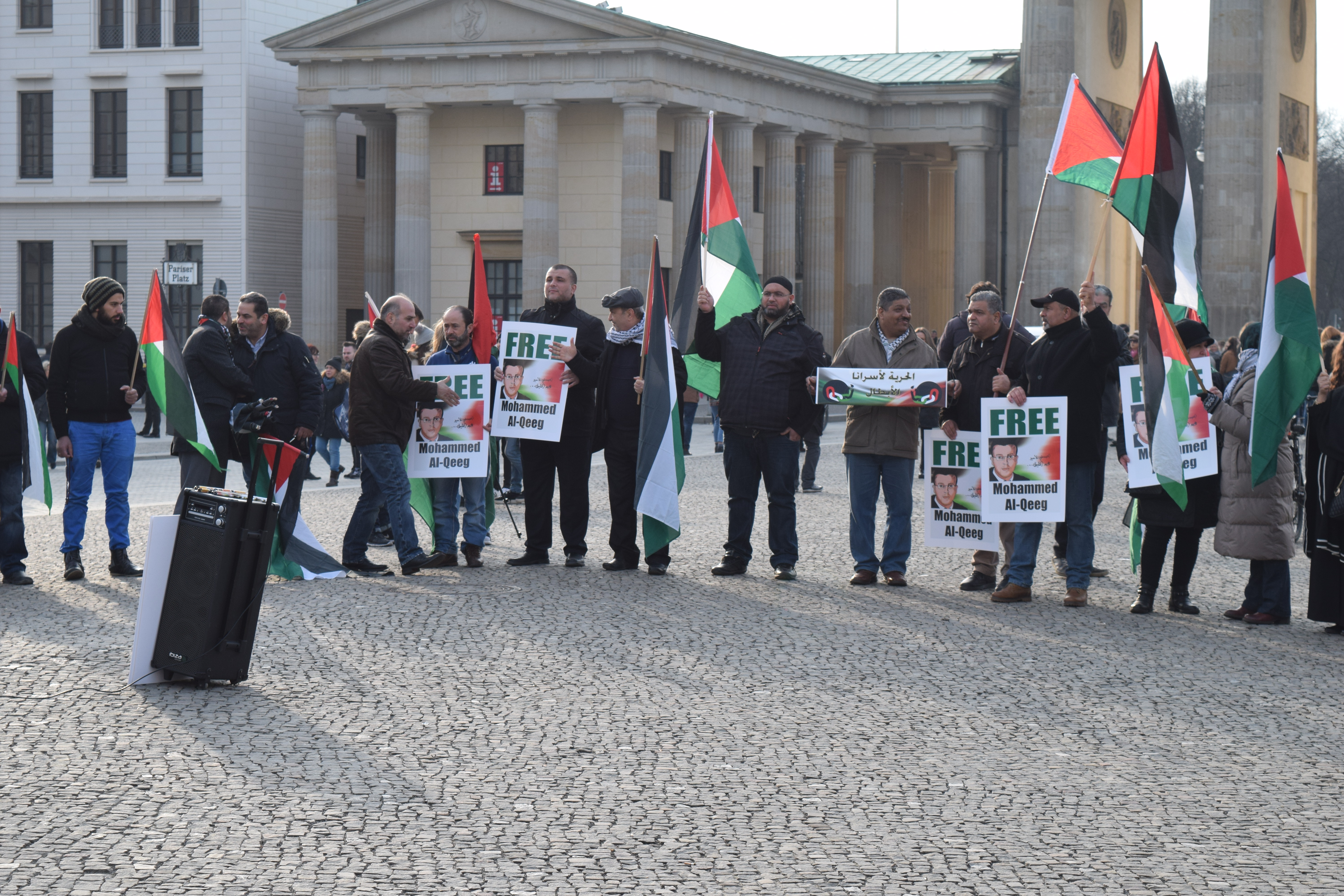 Palestine Protest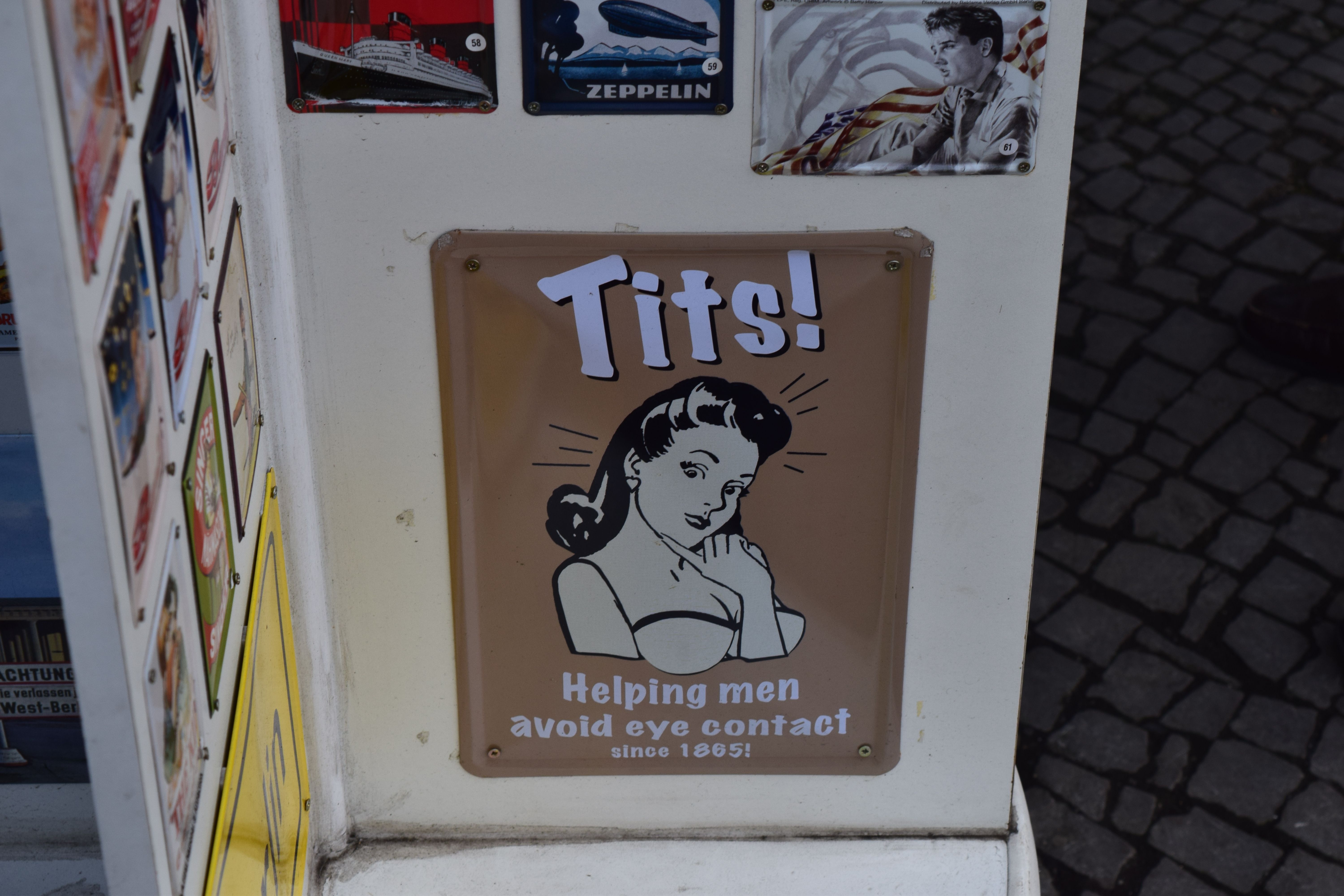 Let's be honest … street sign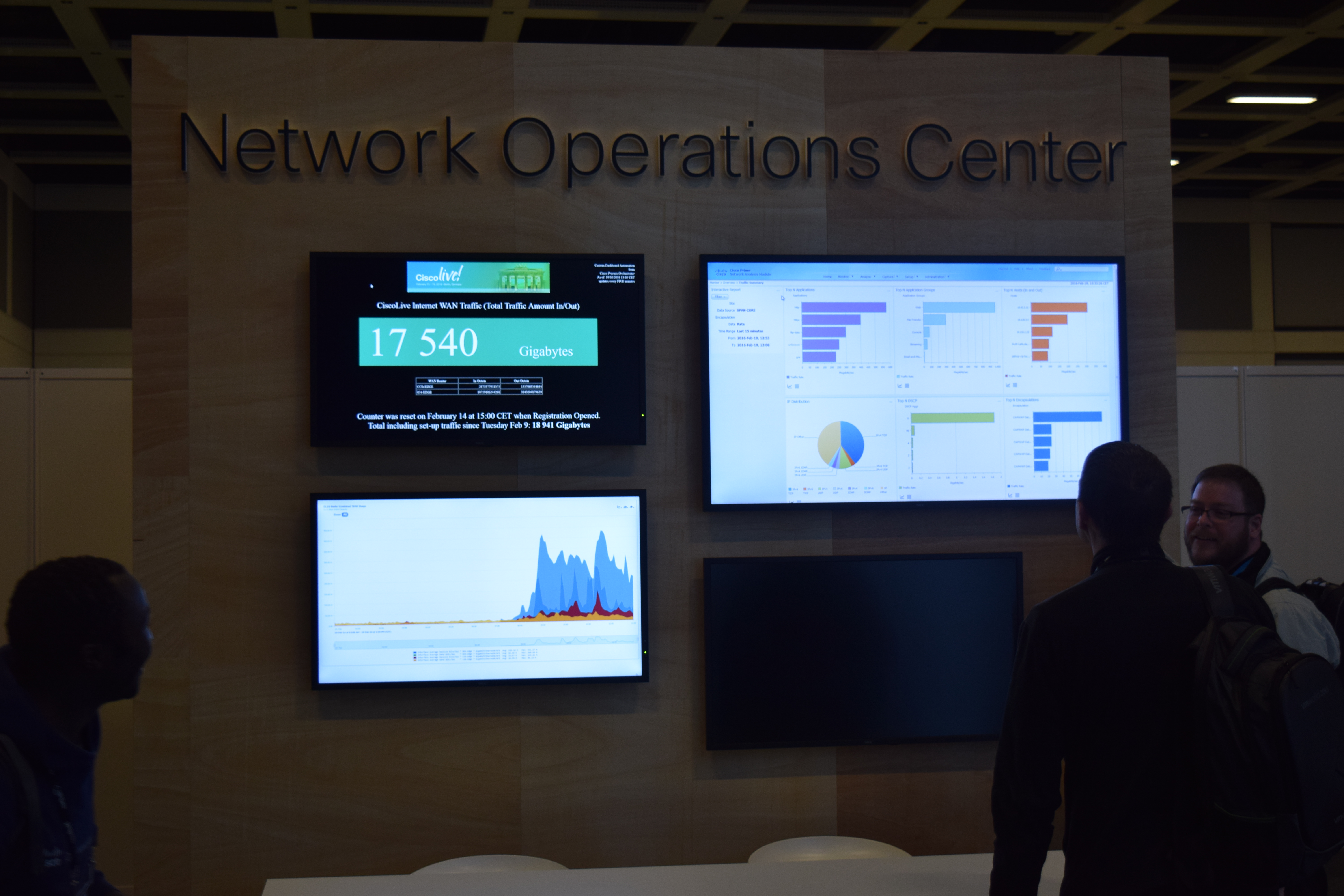 NOC WALL @ CLEUR